In a case that's certain to harsh some mellows, Mondelez Canada Inc. ("MCI"), maker of Sour Patch Kids, has filed a trademark-infringement suit in California against the maker of "Stoney Patch" gummies, a cannabis-infused version of the popular sweet-and-sour candy.
Unfortunately for MCI, however, it doesn't actually know who makes the "Stoney" edibles. Stoney Patch packages do not identify their source, and the internet contains nary an ounce of contact information, save for an Instagram page. MCI says it has contacted the California Department of Health multiple times about the matter, but the agency has yet to hash out any response.
Despite this regulatory haze, MCI has forged ahead, alleging in its complaint that Stoney Patch has encroached on its brand by copying the OG Sour Patch Kids' packaging, which it describes as a substantially yellow bag "with green dabs at the edges" (it really says that). In addition to the similarities between each package's fonts, colors, and figures, MCI highlights the play on Sour Patch Kids' "Sour then Sweet" slogan, which Stoney Patch rebrands as "Sour & Sweet, then Stoned."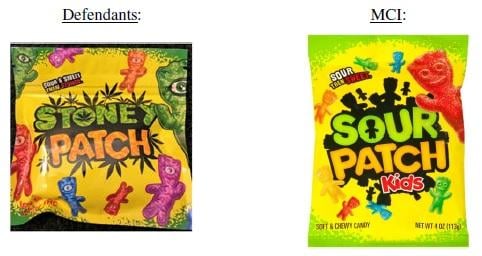 For its causes of action, MCI invokes a California law which prohibits cannabis-infused products from using packaging that might appeal to children, or could easily be confused with regular candy. It also alleges trademark infringement, dilution, trade dress infringement, and unfair competition, seeking actual and punitive damages, attorney fees, and a permanent injunction blocking Stoney Patch from further use of its "confusingly similar" name and package design. Whether Stoney Patch will respond in kind is anybody's guess.
While it's probably safe to say Stoney Patch intended to associate itself with the classic candy, it's a good reminder to always consult with a licensed intellectual property attorney before locking onto a brand name. Buying a domain, setting up social media, and marketing your brand will consume significant resources, and you don't want a trademark dispute with a prior user to cause the goodwill you've built up in your mark to go up in smoke. Better to protect your business now than risk having to later throw the baby out with the bong water.